As you may already know, I'm currently in my 3rd and Final Year of the Child Nursing Programme – so December has been very busy for me! I've met with my Dissertation Supervisor for the first time (an Academic Staff Member assigned to your chosen topic to support you through your 6,000-word Literature Review) and I have been busy working towards my Leadership Essay and Teaching OSCE (Objective Structured Clinical Examination) – more about these next month! 
Despite the workload, I've managed to squeeze in plenty of fun around my studies this month including running 10KM for Great Ormond Street Hospital Charity dressed as Santa and helping lead a Student Nurse Christmas Twitter Disco – my very first Tweet Chat! 
Over at the School of Health Sciences, Admissions Tutors David & Lucas have been busy making final preparations for the upcoming Child Nursing Selection Days – which means if you've applied to us – you may well be invited to the campus in the coming months. 
So, for this blog I'll be sharing all my hints, tips and insider information about all things Selection Day. 
Choosing a University 
At this stage you may be feeling a little confused – with the UCAS application permitting up to five choices of University you can be left in a bit of a dilemma as to which University you should bless with that precious Firm Choice – it's not uncommon to be left torn between a couple of excellent choices at this stage. 
The great thing about Nursing is that the degree programme is regulated by the Nursing & Midwifery Council (NMC) you can expect a set standard of education and some commonalities in the training wherever you choose to go.  
Choosing a University is a very personal decision but to help you in considering us – here are the top 5 reasons I chose City (in no particular order). 
Variety is the spice of life – We have links with a range of NHS Trusts and Community providers across North, East and Central London. As such I have benefited from placements in smaller University Trusts, large teaching hospitals, dedicated Children's Hospitals as well as Special Educational Needs (SEN) Schools, Private Hospitals and Community clinics. I really liked the diversity of placement opportunities on offer at City – I wasn't sure where I wanted to take my Nursing Career at first and the structure of the course at City has enabled me to take on a wide variety of opportunities and discover where I am best placed.
London Calling – London is a City like no other! London never stops and with a great variety of free and discounted opportunities on your doorstep you will easily be able to keep yourself busy! Not to mention ample opportunities for flexible and temp working. The City also benefits from its diversity – City University of London alone has an international community of students from over 150 different countries making for a vibrant student community. Despite being 125 miles away from home London's great transport links have meant I've been able to not only get back to my beautiful home but grab some fabulously cheap flights to continue ticking off my HUGE list of European destinations on a student budget!

 

Surround yourself only with those who will lift you higher – From Day 1 I have been impressed with the Academic and Personal Support services at City. In 1

st

Year, daunted by a return to education after 4 full years (8 years since my A Levels) I was driven to tears wondering how on earth I could ever face an essay. City's Academic Learning Success team and Library ran both in course and bookable workshops covering topics such as Academic Writing, Referencing and even Note Taking. I further scheduled a 1:1 Writing Clinic appointment to support my essay development and after all of that smashed an excellent 80% in my very first assignment. Couldn't have done it without them! (Thanks David Shah!) Further to this – through troubled personal times, which can and do happen, my Personal Tutor has been a hero! A listening ear, a source of tailored signposting to better personal and academic support or even just a daft joke or bit of reassurance that I can and will make it through. 

 

A home away from home – I originally hail from a tiny village in the heart of the Yorkshire Dales National Park (think Emmerdale but real with far less drama and far more sheep!) I'm sure it's no surprise to you that I find London incredibly daunting at times. I love that City have a one location (for Child Nursing students when not on placement), compact campus, tucked away from the hustle and bustle – but equally walking distance from some excellent social spots. With just under 20,000 students at present in total it makes for a small and friendly feel on campus – as quite an active student I find it impossible to take on the Main Walkway nowadays without saying a friendly hello to someone I know by name. 

 

The door is always open – I talk to a lot of prospective students and I'd say this is my biggest and best piece of UCAS/University choice advice! VISIT THE CAMPUS! At the end of the day, you're going to spend three long years at your chosen University and whilst websites, league tables and prospectuses provide a wealth of information I personally feel that this cannot replace being on the campus and getting a feel for the place. From the moment I walked through the door I loved City – the friendly staff, the compact and quiet campus, the relaxed feel. On paper, I'll be honest I had given other Universities some consideration – but the day I visited for interview it really was love at first sight! As a Child Nursing applicant ultimately, you will always visit the places that select you for interview.
If you are reading this blog from further back in this process and are looking forward to 2020 entry onwards you may wish to explore:
Undergraduate Open Day: https://www.city.ac.uk/study/visit-us/undergraduate-open-days  
Campus Tours: https://www.city.ac.uk/study/visit-us/campus-tours 
Taster Days: https://www.city.ac.uk/study/visit-us/taster-days
Child Nursing Selection Day
Thinking back to my own Selection Day I was very nervous, didn't know quite what to expect and wasn't certain how to best prepare for my interview. So, I'm going to do my best to help you know what to expect, how to prepare and to hopefully feel a little less nervous about your upcoming Selection Day!
(Please note that the details disclosed in this blog are correct at the time of publication (December 2018) and whilst they offer a general overview of the 2019 Entry Admissions Cycle for BSc Child Nursing, the process could be subject to minor changes and there may be differences to the process for other Nursing courses. Visit the City Selection Day pages for more details: www.city.ac.uk/health/selection-day)
What to Expect: Get to know City University of London
Current Child Nursing Students: Our Selection Days are supported by a team of current Child Nursing Student's. They are a fantastic resource for you as an applicant as they have lived through the course and can offer a first-hand account of what it is like to be a Child Nursing Student at City. They will guide you around the Campus on a tour, lead you through the smooth running of the day and be on hand to answer any questions you may have.
Current Academic Staff & Trusts: During the day there will be a chance to explore a poster presentation from our Academics – giving you the chance to gain an insight into the extensive clinical and academic backgrounds of those leading your clinical and theoretical teaching here on campus. There will also be the chance to learn more about the Trusts we work closely with – and where you may be allocated clinical placements.
(It is important to note that at present on the Child Nursing Programme; students rotate around various Trusts for their training. This is a fantastic system as it offers us good variation of placement opportunities. Our placements team always endeavour where possible, to allocate within a reasonable travelling distance of your given term time address. As Nursing Students, we are expected to work shift patterns that reflect the service we are allocated to – this can be 12.5 hour shifts including weekends (and Night Shifts from 2nd Year). Bear this in mind when considering your possible accommodation options. More information on Accommodation is available at: https://www.city.ac.uk/accommodation)
Our Campus: As part of the Selection Day Programme you will be offered the opportunity to take a student led tour of our campus – allowing you to get a feel for the University, explore the various support services and facilities on offer as well as the chance to see our Nursing teaching facilities and Simulation Wards. More information can be found by following the range of useful links below – or by searching the City Homepage.
Student Support: https://www.city.ac.uk/study/student-support
Fees & Funding: https://www.city.ac.uk/study/fees-and-funding
Sport: https://www.city.ac.uk/about/education/academic-services/sport-and-leisure
Student Union: https://www.citystudents.co.uk/
Library: https://www.city.ac.uk/library
What to Expect: The Selection Process
Cambridge Personal Styles Questionnaire (CPSQ) (Prior to Selection Day): Before attending the Selection Day you will be sent a link via e-mail to complete the CPSQ. This online questionnaire assesses personal qualities and ways of working and the results will be taken into consideration alongside other selection methods in assessing your potential. It is recommended you undertake the test on a computer (desktop/laptop) rather than a mobile device and read the instructions and questions carefully.
There's no right or wrong way to answer the questions and it is strongly recommended that you answer honestly – rather than attempt to generate what you believe the University wants to hear. Answering honestly is important because the results can be used to support your personal development on the degree programme but also because a wide range of qualities and ways of working are fitting in a profession as broad as Nursing. There's no perfect profile!
Scenario Based Question Paper: On Selection Day you will be required to sit a written question paper. The questions will pose scenarios relevant to Nursing and ask you to explore what is presented to you. You are not expected to possess strong clinical knowledge for these – more an awareness and understanding of the issues within them. It is an opportunity to showcase both your knowledge and understanding of what it is to be a Nurse but also to showcase your personal qualities in describing how you would approach the situations presented.
Please note: City endeavour to support student's learning needs – and this includes those of our potential students. If you think you may be eligible for extra support or time in completing this assessment – please make Admissions aware in advance of your Selection Day.
Group Based Interview: At the BSc Child Nursing Selection Day you will also be interviewed but rather than a traditional set up, answering questions posed by a panel – City makes use of a group-based interview. They will still be looking for you to be able to share examples and experiences and of course your motivation to study Child Nursing but this will be embedded in a group activity. This means they are not only looking at the content of your answers but also how you work and interact with others. This group session will be assessed by a member of the academic team and usually one other – this may be a further academic, a placement provider or even a service user.
Lou's Top Tips for Selection Days
Don't be late! Obviously arriving late doesn't create a good impression but equally, running late can leave you feeling flustered and set you off to a bad start. Leave with plenty of time to reach our campus and try to plan alternative travel routes (we are equally accessible from Angel and Farringdon/Barbican meaning should you face travel disruption there may be another route available).
Do some pre-reading – Take the time to read around – not only about Child Nursing as a career but also about the University and Course. City need to be satisfied that you have the right motivation towards the course and the career. BUT…also bear in mind, Selection Day is as much about City choosing you, as it is you choosing City! Cheesy – but important!
Be prepared – You will be required to bring some documents to interview. All details will be sent to you before the Selection Day. Check these details carefully and prepare what you need the night before. This places you in good habits for the course itself as this is exactly how students are advised to prepare themselves for placement!
Dress Code – Adhere to the dress code advised in your Selection Day invite but bear in mind that your Selection Day may include a campus tour and you need to ensure that whilst smart, you are comfortable and able to partake in these activities. Also bear in mind we are a short walk from the nearby stations and you should consider the weather on the day.
Know your Personal Statement – (Not by heart!) Have a read through of your Personal Statement – you likely spent a long time working on it and the content has successfully got you through to the selection stage. It's worth reflecting on your motivations, skills and experiences ahead of the interview and your Personal Statement is a nice short summary of this.
Know your skills/qualities (and back them up with examples) – A piece of advice I often recommend to Nursing Applicants pre-personal statement is to consider their current skills in relation to Nursing. Prior to the course I had no real clinical experience, but I did have skills/qualities that could come in useful in a clinical environment. For example, at the time of my interview I had never had to calm a 7-year-old down prior to a medical procedure – but I had previously calmed a 7-year-old down 40ft in the air to successfully get them to step off a zip wire. Skills and qualities are transferable – what strengths/qualities can you bring to Child Nursing and what examples can you give?
Be yourself – It's very easy to want to sell yourself as the "perfect nurse" and what you believe the University are looking for. Nursing is an increasingly diverse profession and it really does require a wide range of personalities and skill sets. You are your own expert – so sell yourself and avoid comparing to others or trying to present what you think a Nurse should be.
Have a good night's sleep and breakfast – for fear of sounding like your parent/guardian I won't expand on this one! It speaks for itself! Your Selection Day is important and you need to be on top form!
Lou's Golden Piece of Interview Advice: I was once told "You've no need to be scared – how do you think they got on the other side of the table? They stood where you are!" It did very little to waylay my fear at that moment, but it's helped me at every interview/selection since! I hope it helps you!
I want to wish you all the very best of luck with your applications and hope you take some time to enjoy the festive season too! If you have any questions you can direct them to the Health Admissions Team at: health@city.ac.uk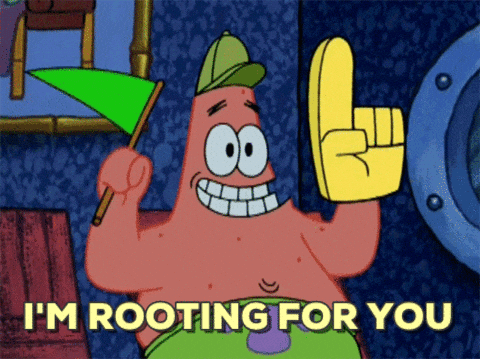 Wishing you all a Happy Holidays! I'll be back again with another blog in January – exploring all the excitement of learning through Simulated Practice!