Paul James Cardwell, King's College London and Jed Odermatt, City, University of London
The Eurovision bandwagon has firmly arrived in Liverpool. During a week of two semi-finals, 37 competing countries will be whittled down to 26. Around 160 million people are then expected to tune in to the grand final on Saturday May 13. From humble beginnings in 1956, with only seven countries competing in a theatre in Switzerland, the contest is now one of the most watched entertainment events in the world.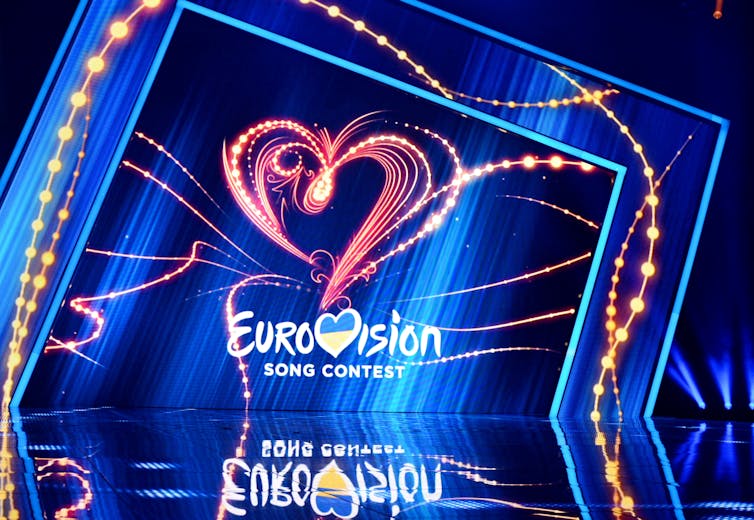 And yet there remains some confusion about what counts as "Europe" in the context of Eurovision. Clarity on this point can, however, be found by understanding a little bit about the rules and practices of international politics. And along the way, the process of deciding who is in and who is out – and what the rules are for those who do compete – is an interesting reflection of international law.
A different kind of union
Participation in the Eurovision Song Contest reflects a basic principle of the international legal order: sovereignty matters. Being a state in this context counts for more than being physically located in Europe.
The actual participants in Eurovision are the TV broadcasters who are members of the European Broadcasting Union (EBU), an international organisation which is open to membership from across the European Broadcasting Area. This area includes North Africa and the Middle East. Israel, which has won four times, has participated since 1973 on this basis. Morocco participated once, in 1980, but has not returned.
Other states come and go, often depending on budgetary constraints (hence the absence of Montenegro and North Macedonia this year), lack of national interest or success in previous contests (Andorra, Monaco, Slovakia), objections to the voting principles (Turkey) or rumoured discontent with the growth of LGBT+ visibility in the contest (Hungary). Broadcasters from Belarus and Russia were expelled from the EBU in 2021 and 2022 and are ineligible to complete. Kosovo is also keen to participate. While Kosovo's statehood is recognised by a majority of European countries, it is not a full member of the EBU. EBU membership requires a country to be a member of the International Telecommunications Union (ITU), which in turn requires UN membership (which Kosovo does not yet have).
As in international law, where the permanent members of the UN Security Council have a veto power, some states are more equal than others. Eurovision rules apply differently to the largest financial contributors to the contest – France, Germany, Italy, Spain and the UK – who, along with the previous winner, qualify directly for the final and do not risk elimination in the semi-finals. This sounds like an unfair advantage, but did not help France's Alvan and Ahez or Germany's Malik Harris (2022), the UK's James Newman (2021), Germany's Jenrik or Spain's Blas Canto (2021) from finishing bottom of the pile.
You might also ask why Australia is competing. Due to long-term viewing figures of the contest down under, and the occasional Australian participant (often for the UK, including Olivia Newton-John and Gina G), Australia – or technically the Australian broadcaster SBS – was invited as a special guest to the 2015 contest in Vienna. It was then invited to compete on a five-year contract running from 2018 to 2023. As in international law, sometimes the rules can be stretched.
Eurovision is often wrongly assumed to be a product of the EU. Not only did the first Eurovision in 1956 pre-date the creation European Economic Community by a year, but membership of the EBU is neither required nor expected of EU members.
The concept of European integration has provided some inspiration for the songs – most notably Italy's 1990 winner Insieme: 1992 (Together: 1992). That was a contest held in Zagreb, in what was then Yugoslavia – the only socialist country to take part during the cold war years.
The Irish hosts in Dublin in 1988 worked with the European Commission to show an interval video tour around Europe to promote intra-European tourism. (This show was also notable for showing a clip of eventual winner Céline Dion inspecting a potato field). Brexit, despite the efforts of a lone MP in the House of Commons, does not mean the UK must stop competing. Nor does it mean the UK is doomed to failure – as Sam Ryder's overall second place (and winner of the jury vote for the UK in 2022 shows. Customary practice – also very important in international law – means that the winner is given the opportunity to host the subsequent contest, but not always. The BBC was invited to host instead of Ukraine this year.
An international rules-based system
Eurovision is also a pretty good example of how rules operate in international partnerships. Some are fixed and permanent, while others need or are allowed to evolve. Sanctions are sometimes needed and often difficult to decide upon.
Rules about the staging of Eurovision entries – original song not previously released, maximum six people on stage – are strictly enforced and do change over time. But since 1999, entries no longer have to be in an official language of the country, and some limited pre-recorded backing vocals are allowed.
A rule that does occasionally cause headaches for the EBU is the ineligibility of "political" songs. Georgia's 2009 entry We Don't Want to Put In was not allowed because it was ruled as alluding to then Russian prime minister Vladimir Putin – though Israel had successfully entered a thinly-veiled rap about the (then) leader of Iran two years previously.
Ukraine's Jamala won in 2016 with a song called 1944 about the deportation of the Crimean Tartars during World War II and a highly successful previous Ukrainian act, Verka Serduchka, was accused by the Russian delegation of actually singing "Russia, goodbye" in the lyrics to the song Dancing Lasha Tumbai in 2007.
Policing the boundaries between what is said, and what is implied, is a difficult task. This year, Croatia's entry is sung in Croatian, but the meaning of lyrics such as repeated use of the word "armagedonona" is not difficult to guess.
Austria is tackling the topic of the lack of representation of women in the music industry and low amounts of money provided by streaming services to artists and songwriters with its lyrics "0.003, give me two years and your dinner will be free".
Whole books and academic articles can be written on how Eurovision has led to primetime LGBT+ visibility – itself a hotly contested political topic across many states in Europe – most notably via the victories of Dana International (Israel, 1998) and Conchita Wurst (Austria, 2004).
Love it or hate it, Eurovision has cemented itself as part of the cultural landscape of the continent and beyond. But more than that, it helps us understand both the complexity of the international and European legal orders, the interpretation and application of rules, and the ever presence of politics. As France memorably sang in 1991, C'est le dernier qui a parlé qui a raison (It's the last to have spoken who is right).
Paul James Cardwell, Professor of Law, King's College London and Jed Odermatt, Senior Lecturer, City Law School, City, University of London
This article is republished from The Conversation under a Creative Commons license. Read the original article.