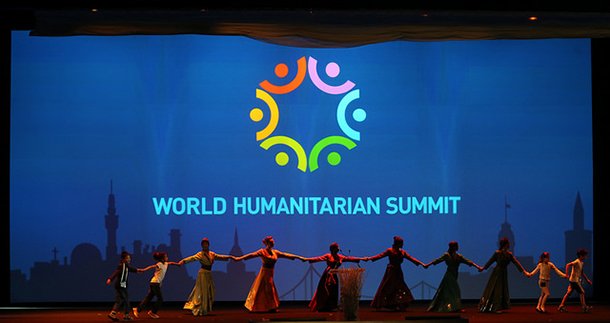 Couldn't make it to Turkey for the World Humanitarian Summit in May 2016? Listen to a recording of the side event, The Role of Media in Humanitarian Crises and catch up on the debate below.  
The panel included:
Nicolas Moyer, Executive Director, Humanitarian Coalition
, who introduced the session, and set out its core problem statement: "The media and humanitarian aid do not always coexist effectively and that aid agencies under achieve in part because of the lack of cooperation between them on media outreach, and because media attention on humanitarian crises is fleeting."
Caroline Nursey, Executive Director, BBC Media Action
 (from 5 mins, 20 secs) 
outlined the work done by BBC Media Action, and argued that communication was essential during an emergency response – particular during the recent ebola crisis. Caroline suggested that the work of BBC Media Action, the CDAC network and sessions at WHS were helping to win the argument that communication should be built into every intervention. 
'Sharing stories from the World Humanitarian Summit'. New blog from our executive director: https://t.co/SCEPiLZtxs #WHSummit

— BBC Media Action (@bbcmediaaction) May 30, 2016
Hanna Stjärne, CEO of SVT, Swedish National Television
(from 12 mins, 50 secs) explored
 the role of a public service broadcaster in helping those affected by humanitarian disaster. 
Hanna outlined the three principles that govern fundraising activities at the SVT:
1. Independence – humanitarian actors are treated equally;
2. No mix of news and fundraising;
3. Highest standards in transparency of funds.
CEO SVT & chair of @Radiohjalpen @HannaStjarne highlights key role media plays in emergency appeals #ShareHumanity pic.twitter.com/hKeRhlJFL7

— Saleh Saeed (@salehsaeed) May 23, 2016
Joshua Bennett, Executive Vice President, Show of Force
(from 34 mins) argued that aid organisations often lose site of the big picture in their communications:"People don't want more information, they want more faith – in you, your goals, your success and the stories you tell". Joshua argued we need to focus on stories that connect us at an emotional level more powerful than statistics or facts.
.@Bennett1joshua from @SOFfilm & @SOFsocialgood spoke @WHSummit #RPstaffatWHS #RoleOfMediaInHumanitarianCrisis pic.twitter.com/RjOkIzkQJ4

— RefugePoint (@RefugePt) May 25, 2016
You can listen to a summary podcast of another WHS side event on
Communication in conflicts; 'it's essential'
here
.