Last week, several members of the Educational Technology team paid a visit to the Made@City 2014 event in Shoreditch Village Hall. This event, now in its second year, is City's end-of-year show for students from the School of Mathematics, Computer Science and Engineering and brings together undergraduate, postgraduate and staff research work under one roof. It makes for a great opportunity to take a glimpse at the work of young makers and entrepreneurs whilst their work is still at formative stages, as well as to network with students and staff within the school.
In the event programme, Dean Roger Crouch described how the school 'sees tremendous value in nurturing innovation in this fashion' with the event acting as a platform 'to reward curiosity, encourage students and staff alike to challenge the status quo, to tinker, and above all, to design'. We saw plenty of evidence of both impressive innovation and curiosity pursued and tinkered with.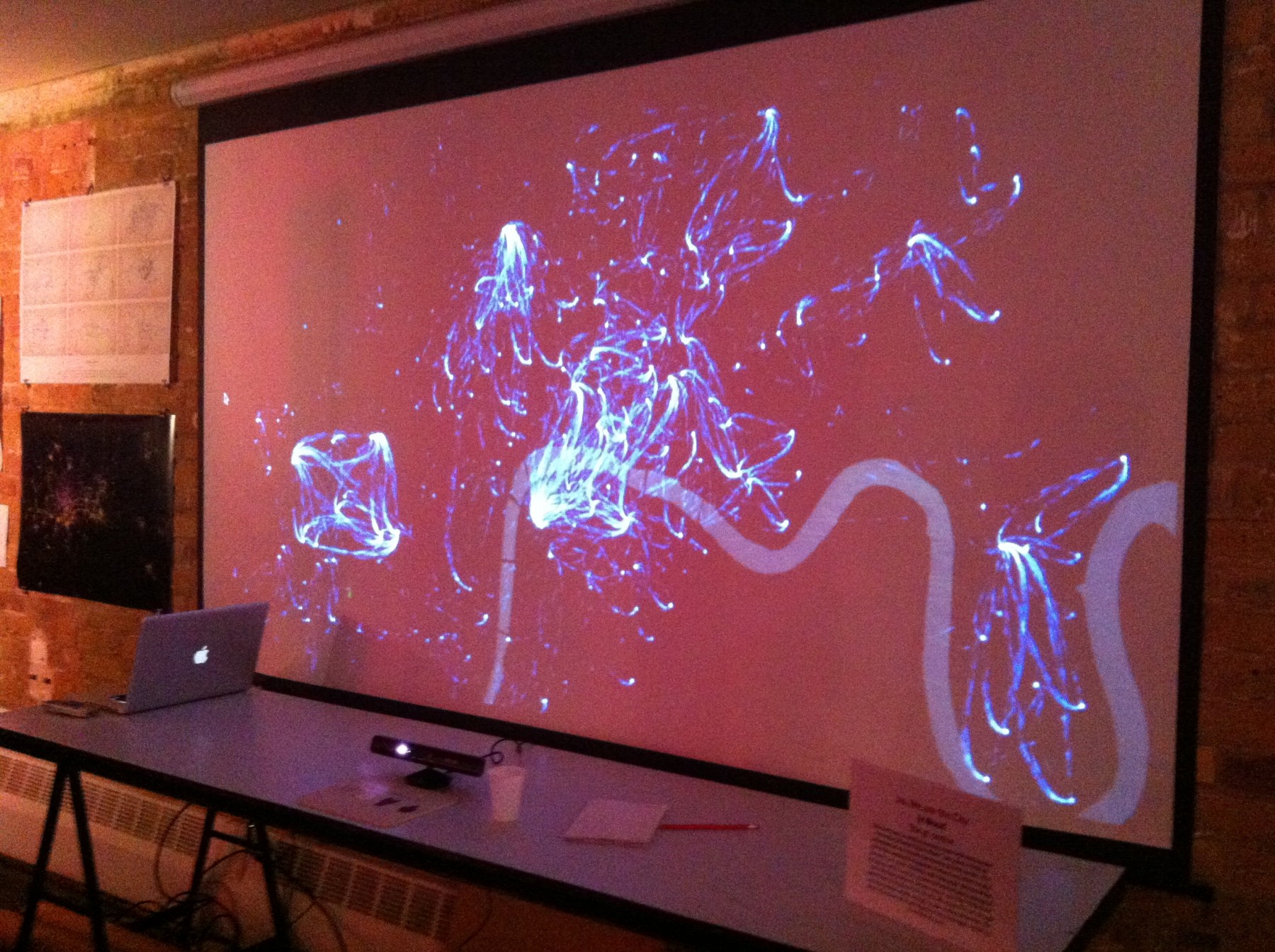 A vast screen was spotted over the shoulders of the folks at the entrance desk, which drew us in first. This piece, titled 'We are the City', turned out to be the work of Jo Wood from the giCentre from the Department of Computer Science, which specialises in developing and applying new techniques for visualising data. Blue trails swarmed around the distinctive snaking shape of the Thames in this animation of bicycle movements across London, which was built using real-time open data from Transport for London.
Following this impressive start, the team members split off to dive in to the rest of the event. My first stop was at a stall with a simple idea, elegantly executed. Nudge is a wristband designed to help you to form good new habits or to get rid of old ones. A press of the band's button whenever you do something good (e.g. eat one of your 'five a day fruit or veg') is recorded and an integrated LED uses a traffic light to let you know whether you're on track or not. Smartphone app integration allows for tracking of the habit over time and for customising the type of habit. The band also has a social and competitive element to bring your friends on board with good habit forming. The team can be found on Twitter at @nudgeband.
Two more very interesting ideas came out of the Mixed Reality Lab stall. RingU, described as a 'ring-
shaped, wearable system for sending hug messages via Internet communication', is activated by either touching the top of the ring or via the app on a paired smartphone. Users can even customise the 'hug vibration' to send as a personalised message to a loved one elsewhere in the world. Scentee emits a favourite smell and is also activated via a smartphone. A way to wake up to the smell of bacon without having to cook any! The student researchers on the stall described how the idea for RingU had been based on an idea that their professor had introduced them to but which they had expanded on and taken further – a great example of what students can do with their teaching at City.
I spent a little time exploring EVA Park, a tailor-made virtual world designed to develop communication skills and reduced feelings of isolation for sufferers of aphasia (a communication difficulty that affects a third of people who have suffered from strokes). My colleagues had their own immersions too, including a game that enabled crowd sourcing of data analysis for Cancer Research and a skiing game created for the Oculus Rift virtual reality headset, where the game was driven by the user's head movements.
Made@City was a great opportunity to both get to know some of the staff and students at the school as well as investigate some of the work that they have been involved with over the past year. It was also a great way to see the physical results of some of the teaching and learning that goes on at City.
Roll on Made@City 2015 and best of luck to this year's participants!