The first Educational Multimedia Group meeting ran on 10th February at our Mac lab in Goswell Place. Academic and professional services staff, who had previously made use of our facilities, were invited to this special interest group. We had a great turnout with over 20 members attending, with representation from every school.
Mo Pamplin, who leads the multimedia theme as part of the Educational Technology Team, kicked-off the meeting by introducing those involved in specialist multimedia support. He discussed what constitutes multimedia and the associated tools available to City staff. Mo also discussed the team's mission, to highlight the specific responsibilities of those involved in multimedia production in our team:
We considered the recent Educational Technology Staff Survey and identified solutions to some of the issues raised. Some staff were unsure how to upload large video files. Mo explained that the video resource option on Moodle would allow staff to upload videos of upto 2GB. The size of a video file can vary according to the length and quality of the film. For more guidance on uploading videos, please refer to our guidance website:

Staff Educational Technology Guidance
Box of Broadcasts (BoB) was also highlighted in the survey. In the past this caused difficulties where students were navigated away from Moodle, in order to login to BoB, when attempting to view embedded video or audio clips. The process had now been improved, with students being taken to the login page for BoB then brought back to Moodle to view the relevant clip.
Mo also talked about the training sessions available to all staff, which would look at both of these aspects. A full list of current training sessions can be found here:
Martin Agombar presented two case studies to demonstrate how video has been used to support distance learning in a Law programme and in engineering lab sessions, pointing out the necessity for careful planning to save time in production. The engineering videos were created to help aid the learning or large groups of students, in order to explain complex processes. This resulted in a series of videos with logical and clear explanation of processes, such as refrigeration, with the instrumentation clearly displayed.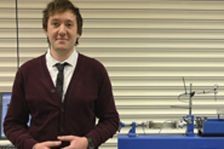 The Law videos were created so that distance learning students could make a personal connection with the lecturers who were delivering their teaching material. These were created in our TV studio, using the blue screen facility, without the need for on-location shooting.
Jorge Freire spoke about the latest wireless projection technologies being explored in the learning spaces team. He introduced the group to eBeam, which allows lecturers to stream whiteboard notes and drawings to participants' tablets or laptops. This is done by using digital whiteboard markers, without the need for a projector, and works for remote students as well as those present in the classroom.
Another solution is the Display Note app, which uses screen mirroring to show content on students' devices.

What is DisplayNote? video
Both of these technologies do not require the need for specific devices, and work on all tablets, mobiles and laptops.
Fariha Afgan presented an Augmented Reality (AR) mini project which utilised the Aurasma app as part of student induction for undergraduate students in the Department of Journalism. The project is discussed here:

Augmented reality for student induction
Lorna Saunder, from the School of Health Sciences, introduced the group to developments in the CityScape project, which seeks to create a virtual world using high quality video resources for the purpose of scenario-based learning. Further information about the project can be found on Lorna's recent blog post:
It was great to have such lively discussion on these topics and to hear what ideas staff have for their future multimedia projects.
The group is open to all staff with an interest in creating or using multimedia resources for teaching and learning. If you would like to join and attend future meetings then please email video@city.ac.uk