Increasingly in Higher Education we work with uncertainty and complexity without simple solutions or clear trajectories.  Consequently to develop as leaders, our fundamental tool is reflective practice.  This involves creating a space to reflect on our progression and challenges, our values and strengths, and to experiment and connect with others.  In LEaD we have been developing walking as a reflective practice technique.  At our Leadership is for Everyone session at the Learning at City Conference we invited delegates to try a walking and learning exercise exploring inclusive leadership.  Delegates were encouraged to think about how they could use walking and learning in their own work and reflect on how staff working at all levels use leadership skills.
After a short presentation, around thirty delegates left the conference centre in a walking crocodile of pairs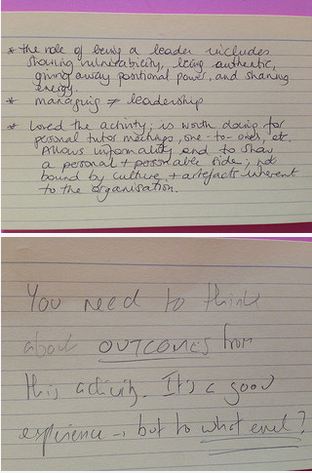 and were lead on a circular walk lasting about twenty minutes around the local area.  The pairs took turns to listen and talk on the leadership subject.  Fortunately the sun shone and the route included Leather Lane market and the glorious gothic Waterhouse Square.  Being out and moving was much appreciated as a post lunch activity.  Walking side by side and being in motion affected the quality of the conversations had and every experience differed depending on who delegates walked with.
Back in the conference room, delegates were asked to capture reflections on the conversations had, walking experience and inclusive leadership subject.  A wealth of ideas and further discussions were generated.  Could this approach be used for walking meetings or committees?  Could this work in bad weather or with those that are not keen on walking?  What impact does walking have on thinking and conversations?  This exercise involved being lead on a walk rather than individuals guiding the walk which also sparked reflections on followership and ease or unease around being lead.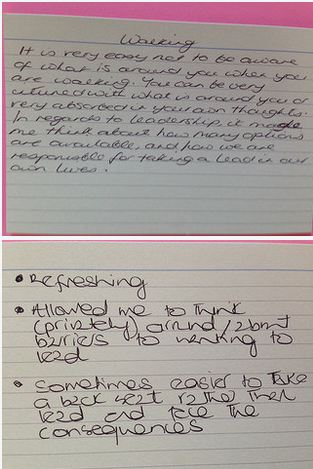 After the walking leadership session, Gill Harrison, an experienced educational innovator at City, was moved to adapt an exercise with her own students the following day as a walking activity.  Gill said "I gave some thought to the "walking" exercise you did and decided that a classroom based session on audit could be more of a get out & about activity".  The session Gill devised provided "a really good way to help students focus their action plans into more SMART goals, as this is something they seem to struggle with" and was also enjoyable.
Do look here to find out more about some of our other walking and learning experiences.
A special mention should be given to Annemarie Cancienne who helped devise the walk and Patrick Baughan who helped guide the walk.