"We live in a world where the workforces of today and tomorrow need to continuously learn and constantly reskill in order to flourish ina newly peripatetic and ever-changing job market place. We, as a society can therefore no longer afford to think of education as something that occurs primarily in our formative years". Nathan Hurley, Orangebox
A huge challenge for us in Education but one that we know has been coming for some time now. That education today is lifelong and evolves as we move into different career paths. Our university spaces also need to adapt in line with these changes and I'm not so sure we are doing that at the rate we should be.
I was very grateful to my colleague, James Rutherford for inviting me along to a recent seminar run by Orange Box right in the heart of Faringdon where Nathan Hurley's team have looked at the idea of a 'Sticky Campus and the new dynamics of Smart learning'. You can read a summary of the full report in this link here. The full report can also be accessed here.
Here are the 4 strategic challenges we face in H.E:
The sticky campus: a 24/7 Education
The term 'sticky campus' describes an active strategy to get students to stick around. You do this by equipping the campus to make it a one-stop-shop for the students. The most comfortable social learning spaces, the unlimited free access to wifi, the various locations to plugin, the best coffee shops, best-varied catering, employers on site etc. Higher education institutions now need to work collaboratively with a range of stakeholders in experiential design; creating campuses that are open 24/7 and that offer the optimal experience, an experience so great students can't imagine leaving. Without looking at the revenue generation, it will provide students with a sense of belonging and of ownership and in ways that suit them. Offering the 'best facilities' no longer means simply great lecture rooms, labs and teaching spaces. It also encompasses 'interstitial spaces' that offer a framework of emotional support for the students.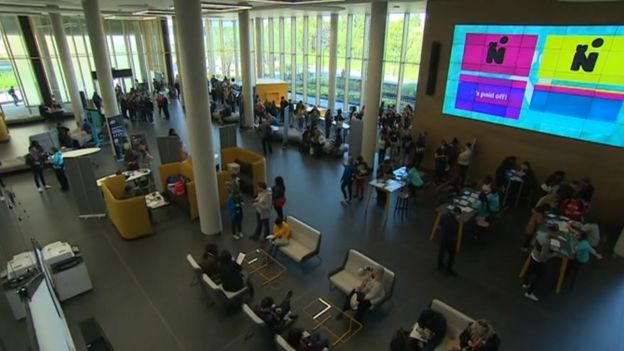 Flipping Learning
The 4 C's as we know them — communication, collaboration, critical thinking and creativity are all necessary soft skills required for students in the workplace. One pedagogy that can help foster these behaviours is flipped learning, where students watch pre-recorded video lectures by their professors at home and do homework with peers in the classroom. A flipped classroom requires a different design approach, one that encourages mobility, group work and interacting with information. This is something that some of our schools are really getting their teeth into. Examples can be drawn from Health, Law, Business and many more. This does mean that there is a shift away from students acquiring knowledge en masse in huge lecture halls. Online learning is transforming the spaces that universities are building. A recent survey by Campus Technology revealed that three in five teachers have already flipped their classrooms or are planning to do so. Could we be doing more too?
Career Tinder – 'swipe right, match, date…unmatch, rematch, repeat.'
The Switch jobs app was designed to let you quickly and easily browse through job postings, and worked much like Tinder: swipe right to like, left to pass. This app didn't last long but it's been predicted that there is a 'tinderisation' going on of jobs for our IGens and Millenial generation. iGen isn't trying to find a job for life; they don't even consider having the same job for a decade, says Hurley.
However, what happens with recruiters? And how do organizations entice iGen workers to stay when a new job is a click away? The answers to these questions aren't fully developed, but Hurley advises we are now in the perfect storm to rethink education and the physical space in which learning and working happens.
Technology to close the gap
Workplaces and higher education institutions need to provide spaces where technology doesn't only enhance the experience; it is the experience – because, for IGen, that's the only world they've ever known. To begin this shift, businesses and universities would be wise to learn from each other.